Famous Artists And Their Beautiful Homes
After spending the past year at home, we've all become very familiar with the walls that surround us - they've been our daily office, our morning cafe, our late night restaurant and our non-stop place of entertainment. Your home can tell a lot about you. As the saying goes "your room reflects your mind" which has us wondering, what do the rooms of some of the most creative minds look like?
We've curated a list of a few artists whose spaces truly encapsulate their creative style - so much so that they've been turned into museums that you can visit!
Salvador Dalí: Casa Museu Dalí, Cadaqués, Spain
An author, artist and provocateur, Salvador Dalí was one of the most notable figures of the Surrealist movement. In 1930, he bought a fisherman's hut in the tiny village of Portlligat, where he envisaged a small, cosy space in which he described in his autobiography as 'the smaller, the more womb-like'. As with any big dreamer, this initial plan quickly changed and his space grew overtime.
Dali soon moved full-time to Portlligat and the village became a large source of inspiration for his work. He expanded his living space to include four more huts, creating a labyrinthine abode. Today the artist's house is still stuffed with artworks and oddities that were collected and treasured by Dalí.
 Image via Wikimedia
Claude Monet: Maison et Jardin de Claude Monet, Giverny, France
Claude Monet was a famous French painter and one of the founders of the Impressionist movement. As tranquil as his landscapes, the artist lived in this small Normandy village and took to the surroundings for inspiration in his masterpieces. The artist's home itself is like walking through his paintings featuring bright colours - pink exterior walls, with vivid blues, greens and yellows on the interior, deliberately to align with the palette of his own works.
After facing severe destruction due to World War II, the property underwent a large 10-year restoration project in the late 1970s, and was returned to its former pristine state.
Image via normandie-tourisme.fr
Joan Miro: The Sert Studio, Mallorca, Spain
Joan Miro was a famous, Spanish Catalan artist, who created works in sculpture and painting, and also worked as a ceramist. In 1956, he enlisted his friend, and former Le Corbusier student, Josep Lluís Sert to design the Modernist studio for him in the outskirts of Palma.
The atelier is situated on a hill overlooking the Balearic coast and features large skylight windows to draw light into the center of the studio, where the artist lived and worked for nearly three decades. Two years before his death, Miró endowed his studio to the city of Palma de Mallorca.
 Image via miromallorca.com
Barbara Hepworth: Museum and Sculpture Garden, St. Ives, Cornwall, UK
Dame Jocelyn Barbara Hepworth DBE was an English artist and sculptor, whose art exemplifies Modernism - particularly modern sculpture. Hepworth was a leading figure in the colony of artists who resided in St. Ives during the First and Second World Wars. Living and working in her studio until her death in 1975, the space is a sanctuary of the artist's creativity with beautiful gardens that surround her large-scale bronze sculptures.
 Image via Squarespace
Jackson Pollock and Lee Krasner: House, East Hampton, USA
Jackson Pollock was an influential American painter, and the leading force behind the abstract expressionist movement in the art world. Lenore "Lee" Krasner was an American abstract expressionist painter, with a strong speciality in collage. The two were married and lived together, in a modest home studio in the Hamptons just outside of the hustle and bustle of New York City, where you can still walk the paint splattered wooden floors from their canvases. After Pollock's death in 1956, Lee Krasner stayed in the home and studio, working there for the rest of her life.
Image via estliving.com
Paul Cézanne: Atelier, Aix-en-Provence, France
Paul Cézanne was a French artist and Post-Impressionist painter whose work jumpstarted the transition from the 19th-century conception of artistic endeavor to a new and radically different world of art in the 20th century. He lived and worked for many years in a charming house in Aix-en-Provence, France. He primarily lived in a small apartment just down the hill from his studio, but the house was perhaps his most cherished personal space. The museum there now holds some of his original still-life models, as well as his furniture and work tools.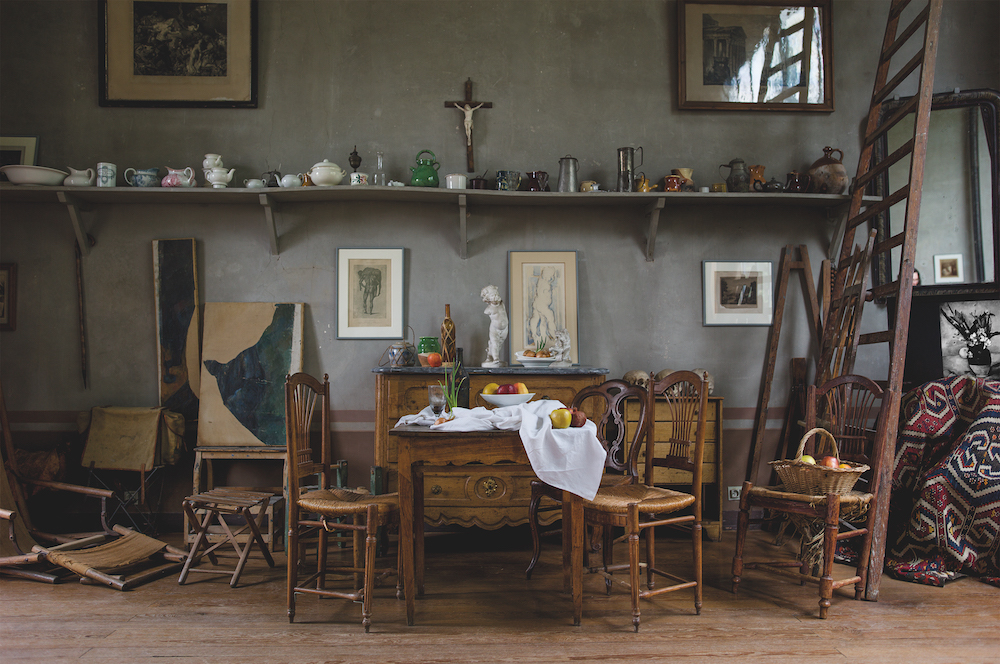 Image via theparisreview.org