A Fun And Unique Office Party!
Want a unique and memorable team bonding experience for your next office party? Look no further than our private painting events! Whether you're a small team or a large company, our sip and paint classes are the perfect way to bring your team together for some creativity! Our resident artists will guide your team step-by-step through the painting process, ensuring that everyone has a great time and creates a beautiful masterpiece - no artistic experience required! We have hosted events for teams of 4 to 400, so whether you have a tiny team or a huge company, we'd love to help!
How It Works
We will come and pop up at your office - transforming it into a fun art studio! We'll bring everything needed with us; all you'll need to do is grab your team and get ready to get creative!
All of our art teachers are super friendly and will guide you every step of the way to help you create your very own canvas masterpiece!
Email Us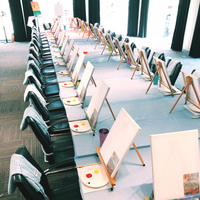 Team Testimonials
We have had 3 in-store events with Brush & Bubbles so far and are so excited to do more! The team are absolutely amazing, I couldn't recommend them enough! They bring a fun but chilled energy to our store and everyone who has attended the events has been as obsessed with them as we are! Outside of the events, the communication has been brilliant and the team are a total breeze to work with!

OONA, NARS
We signed up to a Brush & Bubbles event for International Women's Day for our staff across different offices and everyone loved it! The team arrived in London for the in-person event and staff in Manchester, Liverpool and Cardiff joined via a live link to follow along. We loved the relaxed approach, and the painting options. Would definitely recommend to any business looking for something a bit different and fun for their employees. Thanks so much!

JESS, SLATER AND GORDON
From the moment I first enquired about the Brush & Bubbles experience I was excited by the energy and warmth of the company and I immediately knew this was something my team and I wanted to experience. The whole experience was great fun (helped by the Bubbles) and really imaginative. For those couple of hours, we certainly lost ourselves in the creativity! I thoroughly recommend booking!

ALISON, NESTLE
Our company had an amazing time with Brush &Bubbles at our office! The team were incredibly friendly and made the whole experience so interactive and fun for everyone. Great experience and would 1,000% recommend! Thank you again to the whole B&B team!

JUSTIN, YOTEL
Brush and Bubbles created an amazing environment, perfect for a team event...filled with fun, learning and laughter. It's hands-down the best team event we've ever experienced (even for those who are not artistic in any way).  The conversation, energy and artistic flair made this such an inclusive event. The artists running it are a joy - warm, approachable and flexible. Can not rate highly enough!

LAURA, SPECSAVERS
Highly recommended if you want to have a great team bonding social. Brush and Bubbles came to our offices and everyone had a fantastic time painting, exchanging ideas and having lots of fun. And you get your own painting to take back home. What's more to want!

JACK, DELOITTE
One of the most fabulous events we have hosted, the Brush and Bubbles team make everything so seamless from start to finish and ensure that everyone taking part is getting stuck in and enjoying themselves!

YASMIN, WEWORK
Couldn't recommend Brush and Bubbles more if you're looking for a quirky, fun, team-bonding event. They visited our office and everyone not only enjoyed it so much, but they also had a painting to remember the great evening. Would defo do again!

MADDIE, GRIND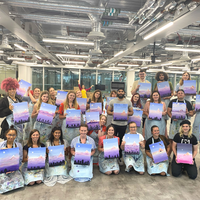 Team Building With A Difference
We understand the importance of team building and its positive impact on productivity and work culture. Studies consistently show that painting can have a profound impact on mental health:
Stress Reduction: Painting fosters mindfulness and reduces stress levels. Creating art triggers the release of dopamine, the brain's "feel-good" chemical, promoting relaxation.

Emotional Expression: Art provides a non-verbal outlet for expressing emotions.

Social Connection: Group art activities build community and support mental well-being.
Virtual & Hybrid Events
We run virtual painting events for colleagues to get creative when working from home, using our bespoke B&B Art Kits. Our hybrid events are also a great way to bring together in-person and online attendees for a fun team bonding session.
Make sure to check out our Christmas parties if you're looking for a fun and festive celebration this year!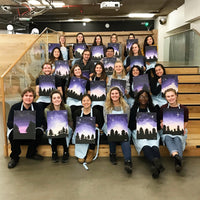 WE'VE WORKED WITH SOME AMAZING CLIENTS!