Hey! We're Tiff & Lara...
We are the founders of Brush & Bubbles.
Before starting the company, we were both chasing our acting dreams and our paths crossed at a screen test in Liverpool. We were auditioning for the same role and afterwards we got the train back to London together. We chatted the ENTIRE journey and instantly became good friends - we felt like we'd known each other forever!
One evening, we met up for dinner and had a few glasses of prosecco. The fizz must've worked its magic, as by the end of the evening we'd come up with a crazy plan to start a business together.. And the rest, as they say, is history!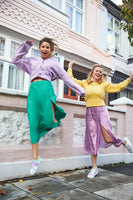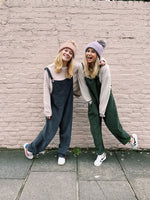 When we founded Brush and Bubbles in 2017, we had no idea of all the amazing things that were yet to come! We are passionate about what we do and every time we sell a ticket or receive positive feedback from one of our participants, we can't help but do a little happy dance. It brings us immense joy to know that we are helping to create a community where people can come together and unleash their inner artist.
We are a very small company with a very big heart, dedicated to making art accessible and enjoyable for all.
Thanks so much for supporting our little business!
Lotsa love, Tiff & Lara xxx