Painting and Prosecco!
Come and join us at a sip and paint Brush and Bubbles workshop in London. You will be welcomed in by our wonderful artists, who will give you a delicious glass of bubbly (or non-alcoholic alternative!) and then seat you at your own artist station. Enjoy 2 hours of relaxation and creativity in a fun, bubbly environment. At the end of the class you will take home a piece of art that you have created and hopefully a new-found passion!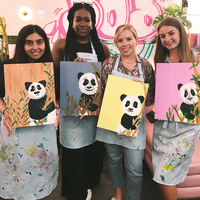 Unleash Your Creativity!
We always say that this is YOUR time to get creative! Our artists will be guiding you through a step by step tutorial, but we always encourage people to add their own artistic flair to their paintings - feel free to change up colours, composition and more!
Book Now
We Provide All Of Your Art Materials
We'll provide you with everything you need to create your masterpiece - your paints, paintbrushes, an apron, easel, a glass of bubbles (or non-alcoholic drink) and of course your canvas that you can take home with you at the end of the class!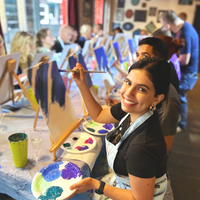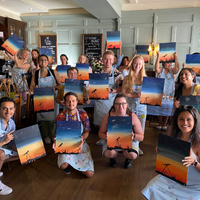 Everyone Is Welcome!
We get lots of lovely groups coming to paint and sip together - besties, mums, dads, grannies, grandads, siblings, couples and more! A super fun art class you can do with friends and family.. Or why not come by yourself, make new friends and enjoy 2 hours of mindful creativity!
Book Tickets
We Have The Friendliest Artists!
Our professional artists will guide you through the session with step by step, easy to follow instructions. Not only are they super talented, but they are some of the friendliest people you'll ever meet! They will be on hand to give individual tips and advice to help you create a beautiful painting that you can be truly proud to call your own!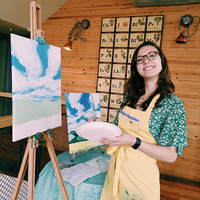 Private Bookings
We offer the option of booking a sip and paint private class for a group of friends/family, hen parties, stag dos, birthdays, baby showers, engagement parties, team bonding, office parties and many more. Get in touch to find out more details!
Email Us